"James Cline is an excellent musician on many fronts—guitar, ukulele, composer. He is also an insightful teacher. Our collaborations have always been a delight, leading to top-notch performances of my music." – Loretta Notareschi, PhD. Associate Professor, Music, Regis University.
"My son is 12 and needs to be challenged in order to engage effectively in an activity. He now loves playing guitar and often chooses to play on his own for 30 min to an hour, which I never imagined, as I struggled to get him to practice 15 minutes at a time before. I highly recommend Dr. James Cline as a music teacher." –Tyler Huisinga, from a recommendation on NextDoor social network.
Doctor Cline is the Director of Guitar Studies at Regis University and teaches Guitar and Music Appreciation at Front Range Community College in Westminster. He holds a Doctorate in Guitar Performance from CU-Boulder and is an Independent Recording Artist/Multimedia Producer. Click here to view Doctor Cline's full resume.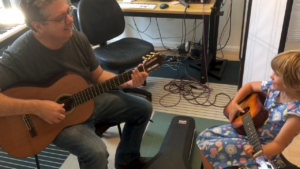 Weekly lesson rates (with semester commitment):
30 minutes: $ 40
45 minutes: $ 57
60 minutes: $ 75
75 minutes: $ 90
($5 extra for "a la carte" lessons, pending availability—e.g., 30 minutes =$ $45, 60 minutes = $ 80, etc.)
Students can be provided with a complete audio and/or video recording of their lesson for an additional $10 per lesson.
Other services ($80/hr):
Music Theory/History Tutoring
Coaching In Music Technology
Audio and Video Production