The past several weeks have been full of creative projects for me! Here are some highlights:
"Body and Soul"
At the end of September I dusted off my Strat for some experiments with electric guitar, including a chord-melody arrangement of "Body and Soul", one of my favorite jazz standards:
"Rocky Mountain High"
I continued to use the electric guitar in creating an instrumental arrangement of John Denver's "Rocky Mountain High", which I am planning on releasing on Spotify/iTunes next month. A few episodes of my "Good Morning Botanica" vlog include previews of the arrangement. Here I am playing a bit of it in the studio:
My duo partner Adriana was kind enough to take some footage of me actually HIGH IN THE ROCKY MOUNTAINS playing the arrangement on the top of beautiful Guanella Pass: 
Look for a complete "music video" of the arrangement coming in early November!
Etudes for solo 'ukulele by loretta notareschi
My friend Dr. Loretta Notareschi has just completed a fantastic set of Five Etudes for Solo 'Ukulele. I was thrilled to perform three of the pieces at the Regis University Faculty Recital on October 10, and I created videos for them, which you can find here: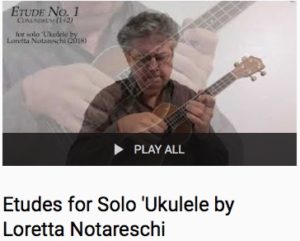 I'm also honored that Loretta is going to use a quote from me for the "blurb" on the back cover of the publication!
In preparation for the performance I put fresh strings on my Uke and filmed the process for my vlog. Hope you find this high-speed string change (set to one of my original 'Uke compositions) entertaining:
New Arrangement of "After the Gold Rush" and Meditative Video From Power of Eights
In early October, Power of Eights (a piano-guitar duo featuring Adriana Teodoro-Dier and me) created and filmed an instrumental arrangement of Neil Young's "After the Gold Rush", which we premiered at Regis on October 10:
We are also continuing our series of inspirational videos set to the original compositions of our Zodiac Meditations cycle. Here's "Libra" our latest installment, filmed last summer at Centennial Cone, near Golden:
Teaching Studio
Finally, I am continuing to accept students at my teaching studio in the Stapleton area of Denver. If you or someone you know is interested in lessons, please contact me for more information.
All the best and much love!
-Doctor Cline